Numa foto tirada a partir da câmara do telescópio HiRISE colocada a bordo da sonda norte-americana MRO (em órbita ao planeta Marte), pode-se ver na sua parte inferior a imagem de um veículo desconhecido estacionado sobre a superfície marciana. A veracidade desta foto é confirmada pelo engenheiro da NASA Bobak Ferdowsky.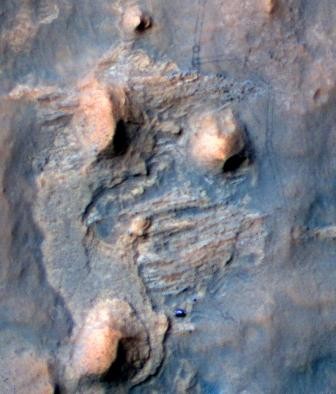 Veículo na região marciana de The Kimberley
(podendo-se ainda ver o traçado deixado pelas rodas)
Trata-se na realidade de um ROVER transportado desde a Terra até ao planeta Marte pela sonda CURIOSITY, encontrando-se neste momento numa missão de exploração na superfície do Planeta Vermelho, na zona conhecida como THE KIMBERLEY. Aí serão realizados trabalhos de perfuração no solo marciano, na procura de material orgânico e de vestígios de vida (como fósseis).
(imagem – NASA)