Passados mais de dois anos e insultando um Presidente!
[Mas certamente (sendo um aviso) e dado o deserto de ideias reinante entre os Democratas (sendo um alerta), um não-assunto tornado objetivo, mas sem rumo (senão virtual) e finalização (filosoficamente oscilando, entre o ovo e o cu da galinha): podendo tal opção desembocar no impensável (a 2ª parte do drama) com a inacreditável (recordando a cara final de Hillary) reeleição do Milionário. E mantendo-se este caminho (traçado pelos DEM e aproveitado pelos REP) talvez com o Mundo a acabar antes mesmo dos 12 anos (uma ideia de AOC).]
Conclusão
It Was All a Lie
(Peter Van Buren/theamericanconservative.com)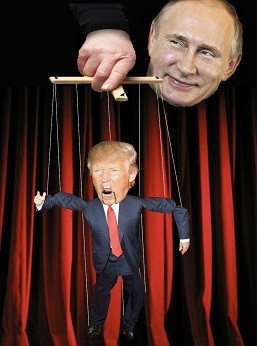 Putin's Puppet
"The Special Counsel's investigation did not find that the Trump campaign or anyone associated with it conspired or coordinated with Russia in its efforts to influence the 2016 US Presidential Election."
(Justice Department summary of Mueller report)
Explicação
The New York Times, The Washington Post, CNN, MSNBC, MTV
(de um processo iniciado antes das Presidenciais de 2016)
"Even as the story fell apart over time, a large number of Americans and nearly all of the mainstream media still believed that the president of the United States was a Russian intelligence asset—in Clinton's own words, "Putin's puppet." How did that happen?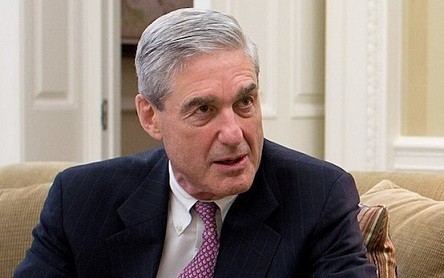 Robert Mueller
A mass media that bought lies about nonexistent weapons of mass destruction in Iraq and then promised "never again!" did it again. The New York Times, WaPo, CNN, MSNBC, et al, reported falsehoods to drive a partisan narrative. They gleefully created a serial killer's emptywheel-like bulletin board covered in blurry photos connected by strands of yarn.
Another generation of journalists soiled themselves. They elevated mongerers like Seth Abramson, Malcolm Nance, and Lawrence Tribe, who vomited nonsense all over Twitter every afternoon before appearing before millions on CNN. They institutionalized unsourced gossip as their ledes—how often were we told that the walls were closing in? That it was Mueller time? How often was the public put on red alert that Trump/Sessions/Rosenstein/Whitaker/Barr was going to fire the special prosecutor? The mass media featured only stories that furthered the collusion tall tale and silenced those skeptical of the prevailing narrative, the same way they failed before the Iraq war."
(Peter Van Buren/theamericanconservative.com)
(texto integral de Peter van Buren/para consulta: It Was All a Lie/theamericanconservative.com/25.03.2019 − imagens: researchgate.net − Pete Souza/foto official da Casa Branca)