"Uma das maiores manchas solares destes últimos ciclos de actividade solar acaba de rodar no limbo leste do disco solar, com uma magnitude magnética gigantesca do tipo Fkc e albergando mais de 19 manchas solares."
(João Porto – astrónomo amador – Observatório Astronómico de Santana – Açores)
MONSTER SUNSPOT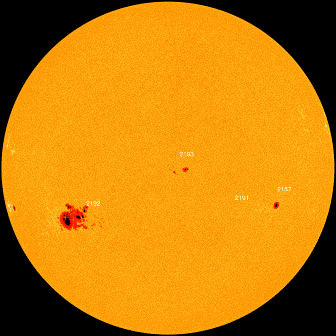 SUN
The biggest sunspot of the current solar cycle is turning toward Earth. This morning when astronomer Karzaman Ahmad of Malaysia's Langkawi Nagtional Observatory looked through the eyepiece of his solar telescope, he declared AR2192 a "monster" and snapped this picture: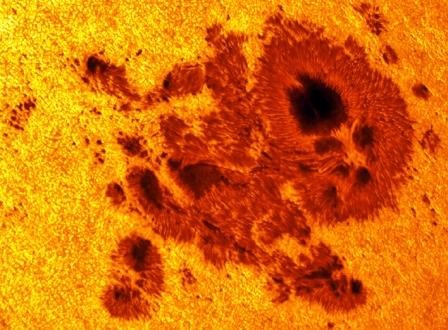 AR2192
This behemoth active region is 125,000 km wide, almost as big as the planet Jupiter. These dimensions make it an easy target for backyard solar telescopes.
A few days ago, AR2192 unleashed an X1-class solar flare. Since then the sunspot has almost doubled in size and developed an increasingly unstable 'beta-gamma-delta' magnetic field. It would seem to be just a matter of time before another strong explosion occurs. NOAA forecasters estimate at 60% chance of M-class flares and a 20% chance of X-flares on Oct. 21st.
(spaceweather.com)