Record Breaking Cold Blankets United States -- Coldest November Morning Since 1976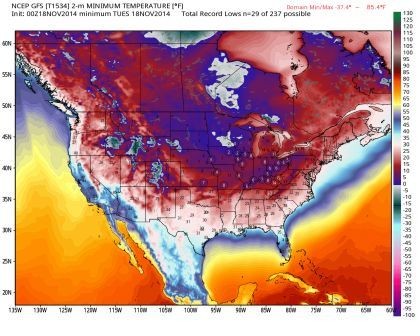 USA – 18.11.2014
Update Wednesday Nov 19:
Tuesday morning, America 'as a whole' awoke to the coldest it has been in November since 1976 – 38 years ago.
Brisk north westerly winds in the Great Lakes will cause heavy lake effect snow.
Many more record low temperatures were set this morning – record low minimums.

Lake effect snow
Compared to normal, temperatures over the past several days have dropped off a cliff – to 10°C below climate normal – more anomalous than even during the polar vortex of early January.
Cold air pushes east thru Wednesday with a reinforcing shot of Arctic air with origin from the North Pole & Siberia to arrive on Thursday in the Great Lakes.
(from: weatherbell.com)