WALL STREET'S DIRTY SECRET
Wall Street Pays Bankers to Work in Government and It Doesn't Want Anyone to Know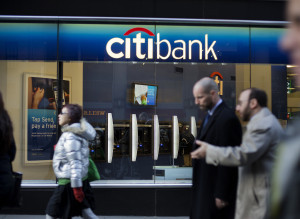 Citigroup is one of three Wall Street banks attempting to keep hidden their practice of paying executives multimillion-dollar awards for entering government service.
In letters delivered to the Securities and Exchange Commission (SEC) over the last month, Citi, Goldman Sachs and Morgan Stanley seek exemption from a shareholder proposal, filed by the AFL-CIO labor coalition, which would force them to identify all executives eligible for these financial rewards, and the specific dollar amounts at stake.
Critics argue these "golden parachutes" ensure more financial insiders in policy positions and favorable treatment toward Wall Street.
"As shareholders of these banks, we want to know how much money we have promised to give away to senior executives if they take government jobs," said AFL-CIO President Richard Trumka in a statement.
"It's a simple question, but the banks don't want to answer it. What are they trying to hide?"
(texto/parcial: David Dayen/newrepublic.com – imagem: huffingtonpost.com)
"Wall Street and Banks already own Congress"
(Comments – Dianna)