Mission selfie from 16 km
If you thought last month's mission 'selfie' from a distance of 50 km from Comet 67P/C-G was impressive, then prepare to be wowed some more: this one was taken from less than half that distance, at just 18 km from the centre of the comet, or about 16 km from the surface.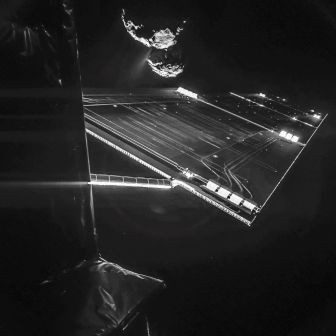 Rosetta mission selfie
(a distance of about 16 km from the surface of 67P/C-G)
This latest image was taken by the CIVA imaging system on board Rosetta's lander Philae, on 7 October. It captures the side of the Rosetta spacecraft and one of its 14 metre-long solar arrays, with 67P/C-G in the background. Not only does the comet appear much larger than in last month's image, the active 'neck' region of 67P/C-G is now clearly visible, with streams of dust and gas extending away from the comet. The primary landing site, currently known as Site J, can also be seen on the smaller lobe of the comet.
Two images, one with a short exposure time, one with a longer one, were combined to capture the whole dynamic range of the scene, from the bright parts of the solar arrays to the dark comet and the dark insulation cladding the Rosetta spacecraft.
CIVA, the Comet Infrared and Visible Analyser, is one of ten instruments on-board Philae. The CIVA-P part of the instrument comprises seven micro-cameras arranged around the top of the lander to take panorama images, while CIVA-M is a visible/infrared microscope imager/spectrometer that will the study the composition, texture, and albedo of surface samples.
The 7 October selfie is the last image from Philae before the lander separates from Rosetta on 12 November. The next image will be taken by CIVA shortly after separation, when the lander will look back at the orbiter to bid it a final farewell. While the lander's ROLIS instrument will take images during the descent phase, CIVA will be tasked with making a 360 degree panoramic image of the landing site, including a section in stereo, once safely on the surface of 67P/C-G. The images and other data collected by Philae will provide important in situ information about this particular region on the comet, providing 'ground truth' data that can be used to complement the data collected for the whole comet from the Rosetta orbiter now and into 2015, as the comet becomes more active.
Final confirmation of the landing site and its landing scenario is under discussion today at ESA's Lander Operations Readiness Review, being held at ESOC in Darmstadt. A formal announcement of the outcome will be made tomorrow, 15 October.
(rosetta blog – blogs.esa.int)