ABOUT ALIENS
(parte da entrevista realizada no JIMMY KIMMEL LIVE a BARACK OBAMA)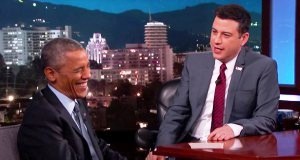 JKL de 12.03.2015
JK:
If I was president the first thing I would do is immediately look into what the government knows about Area 51 and UFOs.
BO:
This is why you will not be president.
JK:
Obama have you looked into it?
BO:
The aliens won't let it happen. You will reveal all of their secrets. They exercise strict control over us.
JK:
People are going to look at your facial expressions and every move as you answered these questions to analyze what you are saying.
BO:
I can't reveal anything.
JK:
Clinton has told me he looked into it and didn't find anything.
BO:
That is what we are instructed to say.
(texto de origem – OPEN MINDS: OBAMA – AREA 51, UFO & ALIENS)