Um espelho que reflecte a vida, que passa por nós num segundo (espelho)
---
Terça-feira, 16.02.21
Sci-Fi novel Lagoon offers a bold new future
(Gibson Ncube/February 14, 2021/theconversation.com)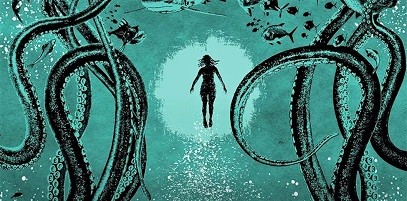 Detail from the cover of Lagoon
a novel by Nnedi Okora
In his satirical essay How to Write About Africa, the late Kenyan writer and journalist Binyavanga Wainaina advocated for a rethinking of clichéd and stereotypical representations of the continent. Wainaina was in favour of looking beyond the despair that has plagued and continues to plague Africa.
African science fiction is a literary genre which tries to imagine utopic futures of the continent. Nigerian-American novelist Nnedi Okorafor calls her brand of sci-fi "Africanfuturism". She explains in her blog that Africanfuturism is "concerned with visions of the future" and that "it's less concerned with 'what could have been' and more concerned with what can/will be."
Okorafor is on an upward global sci-fi trajectory, especially with the adaption of her acclaimed novella Binti into a major TV series – among several proposed projects involving her African protagonists.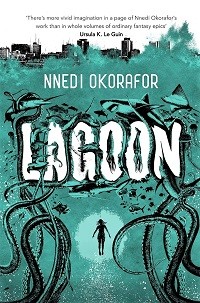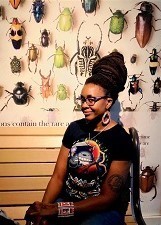 The book Lagoon and
portrait of Nnedi Okorafor with insects
Considered especially against the background of the phenomenal success of the sci-fi blockbuster movie Black Panther, Okorafor's rich body of work matters when it comes to the representation of black lives.
Her 2014 novel Lagoon recounts the story of the arrival of aliens in Nigeria. The aliens make their landing in the ocean, in the lagoon close to the city of Lagos. The novel focuses on Ayodele, the alien ambassador, and her interactions with three humans: a marine biologist named Adaora, a musician from Ghana named Anthony and a military man named Agu. Ayodele has shapeshifting capabilities that allow her to change her form. She transforms fluidly between human, animal and inanimate forms.
As I have observed in my analysis, Lagoon, through its shapeshifting alien protagonist, challenges long held ideas of how gender and sexual identities are considered in Africa.
…
[theconversation.com/aliens-in-lagos-sci-fi-novel-lagoon-offers-a-bold-new-future-154661]
(texto: Gibson Ncube ─ legendas: theconversation.com ─ imagens: Joey Hi-Fi/Hodder & Stoughton ─ Joey Hi-Fi/Hodder & Stoughton e Cheetah Witch/Wikimedia Commons, CC BY-SA em theconversation.com)
Autoria e outros dados (tags, etc)
Sábado, 29.03.14
The Beauty Of Black Dogs That Are Often Overlooked In Adoption
This photo series (here Denver) started after a conversation about how black dogs have a harder time getting adopted then other dogs. I decided to start a photo series photographing black dogs on a black background in my studio. Using social media, I've been recruiting local dog owners who have black dogs to photograph. It's an amazing journey that will hopefully become a book.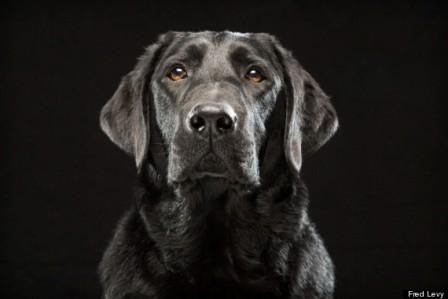 Meet Denver
(Fred Levy Art Photography)
He's a black Lab and therapy dog. His owner takes him to be with people who need that comfort only a dog can give. He spent time with a first responder for the Boston Marathon bombings, giving support to victims as they were dealing with the traumatic experience.
"He's really good at it. When you're in the room with him, he's super happy to be around you," Levy said. "He just wants to hang out with you."
(fredlevyart.com – huffingtonpost.com)
Autoria e outros dados (tags, etc)
Terça-feira, 17.12.13
Teacher to student:
You can't be Santa – you're black
!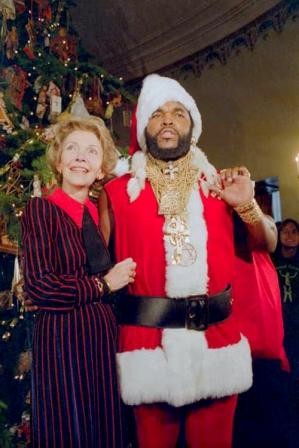 Nancy Reagan and Mr. T – 1983
The family of an African-American high school student in New Mexico says he's crushed after a teacher questioned why he was wearing Santa garb during a school holiday dress-up day last week, CNN affiliate KOAT reported.
The teacher told Christopher Rougier, a freshman at Cleveland High School, that he couldn't be Santa because Santa is white.
(imagem: RETRONAUT – texto: CNN)
Autoria e outros dados (tags, etc)
---
---
---