"E na prática tomando partido contra os EUA e a favor dos Vietcongues."
Massive Solar Storm Detonated Hidden American Bombs,
during the Vietnam War.
Navy Records Show.
Causing the sudden detonation of a large number
of US Navy sea mines,
that had been dropped into the coastal waters of North Vietnam
only three months earlier.
(livescience.com)
The solar particle flux observed at Earth began on 2 August after three brilliant flares. The proton flux started to increase the same day. On the Interplanetary Monitoring Platforms spacecraft dramatically increased with the 4 August 2054 UT IP‐shock arrival at Earth; the maximum particle flux was so intense that the particle detectors were saturated.
Humans have a form of externalised memory. They are able to transmit information across generations in the form of learned cultural traditions and preserve this knowledge in artefacts. How this capability evolved from the simpler traditions of other animals is an active area of research.
(Cultural memory/Kevin N. Laland & Luke Rendell/sciencedirect.com)
Como se ainda fosse necessário confirmar a necessidade (absoluta) da Humanidade conservar como seu Património Universal a nossa base estrutural de suporte – alicerçada na nossa MEMÓRIA e na nossa CULTURA – eis que mais uma vez um facto histórico não justificado e não muito falado na altura (num determinado Espaço/Tempo) encontra finalmente por Experiência e Associação (a fenómenos semelhantes ocorridos em Mundos Paralelos/Coincidentes) uma solução racional e científica (e como tal credível): comunicados (ao público em geral) passados mais de 46 anos (Agosto de 1972) e ocorridos durante a vigência da Guerra do Vietname (nas zonas costeiras do Vietname do Norte).
Um facto ocorrido durante a Guerra do Vietname (iniciada a 1 de Novembro de 1955 e terminada a 30 de Abril de 1975) – mais precisamente a 7 de Agosto de 1972 e com Richard Nixon como Presidente (dos EUA de 1969 a 1974) – quando coincidindo com um período de intensa atividade solar (entre 2 e 4 de Agosto) uma intensa onda energética (constituída por Raios Solares ejetados da superfície da nossa estrela) atingiu o nosso planeta (em pouco menos de 15 horas), originando entre outras consequências (negativas) danos (mais ou menos graves) em alguns satélites (em órbita da Terra) – no Espaço – e até a explosão de minas submarinas colocadas em locais estratégicos do litoral do (inimigo vermelho) Vietname do Norte (uns 3 meses antes deste episódio) – já em Terra.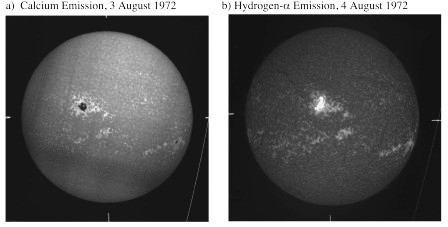 Noting this as one of only a handful of events in the space age that would have posed an immediate threat to astronaut safety, had humans been in transit to the moon at the time. The energetic particle bombardment created a Northern Hemisphere polar ozone cavity – a 46% reduction at 50 km.
Memory is a wonderful resource that allows individual animals to walk around with a store of relevant past experience in their brains.
(Cultural memory/Kevin N. Laland & Luke Rendell/sciencedirect.com)
Exemplo do que o Sol poderá fazer com a Terra (e com todo este Sistema Planetário), numa repetição de um Evento já habitual de ocorrer e de se observar (nas suas consequências práticas), especialmente quando maioritariamente dirigido para o nosso planeta (e para o nosso Ecossistema de proteção e de sobrevivência): sendo o resultado de violentas Explosões na Coroa Solar (CME) ejetando material (extremamente perigoso por altamente radioativo e penetrante) na nossa direção – por vezes insuficientemente protegidos (Homens e restantes Seres Vivos) por todas as camadas de proteção envolvendo o nosso planeta (magnética como atmosférica).
Algo que terá ocorrido a 7 de Agosto de 1972 num procedimento muito semelhante ao anteriormente ocorrido em meados do século XIX: a Tempestade Solar de 1859 mais conhecida como o Evento Carrington. E tomando como referência (de análise e de comparação) todos os possíveis Eventos podendo ter no Futuro (noutro Tempo e noutro Espaço já que como tudo o nosso planeta se mexe) consequências catastróficas para a Terra – num extremo do cenário mesmo ao Nível de Extinção (pelo menos de certas espécies) – convindo recordar quais são nunca esquecendo nenhum (dos na nossa imaginação mais recorrentes/ importantes): entre outros furacões, tremores de terra, erupções vulcânicas, impacto de asteroides e até TEMPESTADES SOLARES.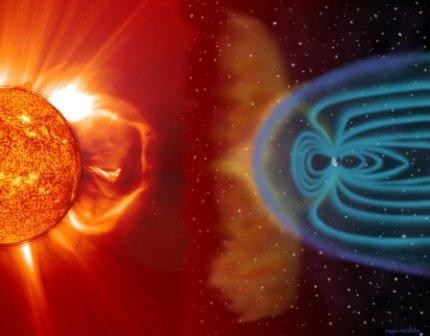 On 4 August (1972) TF‐77 aircraft reported some two dozen explosions in a minefield near Hon La over a thirty‐second time span. Ultimately the Navy concluded that the explosions had been caused by the magnetic perturbations of solar storms, the most intense in more than two decades. The event of 1859 joins the annals of modern powerful geomagnetic storms such as 4 August 1972 that has had severe impacts on power grids, satellites and communications systems.
"Com o Sol a ejetar material (direcionado para a Terra) a partir da sua superfície, atingindo com os seus raios poderosos (constituídos por partículas extremamente velozes, energéticas e penetrantes) minas submarinas colocadas ao longo da costa vietnamita e como consequência (deliberada pois tomando partido) fazendo-as explodir."
No caso do EVENTO de CARRINGTON (uma poderosa Tempestade Solar/Geomagnética ocorrida durante o auge de um dos Ciclos do Sol) com "a ejeção de material oriundo da Coroa Solar a impactar direta e violentamente com a magnetosfera terrestre, dando origem a uma das maiores tempestades jamais registadas" (segundo a Wikipédia): provocando o aparecimento de Auroras em localidades a elas estranhas (com as auroras não frequentando apenas os polos, dirigindo-se igualmente para baixas latitudes e atingindo locais tão distantes como Cuba ou o Havaí), a interrupção das comunicações (como por exemplo o Telégrafo) e o aparecimento de descargas elétricas (curto-circuitando ligações mas com os equipamentos não deixando de funcionar) – teletransportada para o Presente e para a nossa Sociedade (de base) Eletrónica, podendo Criar o Caos e regredir a nossa Civilização. Para além dos efeitos nocivos (devido à ação dos Raios Solares) para a nossa própria Saúde.
(fonte de informação e legendas: Rafi Letzter/livescience.com/12.11.2018 a partir de spaceweather.com e wiley.com – imagens: wiley.com e NASA)