Um espelho que reflecte a vida, que passa por nós num segundo (espelho)
---
Sábado, 16.05.20
[Clint Witchalls/The Conversation/14.05.2020]
The current pandemic, COVID-19, is a contracted form of Coronavirus disease 2019. The term for this genus of viruses was coined in 1968 and referred to their appearance under the microscope, which reveals a distinctive halo or crown (Latin corona). Virus comes from a Latin word meaning "poison", first used in English to describe a snake's venom.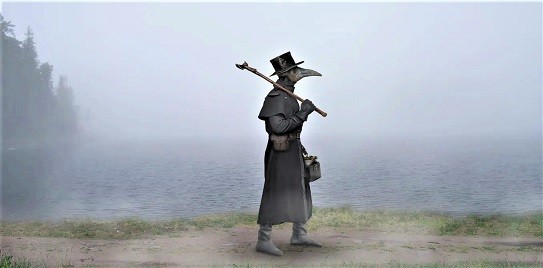 SELF-ISOLATION, the measure of protection which involves deliberately cutting oneself off from others, is first recorded in the 1830s – isolate goes back to the Latin insulatus "insulated", from insula "island". An extended mode of isolation, known as quarantine, is from the Italian quarantina referring to "40 days". The specific period derives from its original use to refer to the period of fasting in the wilderness undertaken by Jesus in the Christian gospels.
LOCKDOWN, the most extreme form of social containment, in which citizens must remain in their homes at all times, comes from its use in prisons to describe a period of extended confinement following a disturbance.
Many governments have recently announced a gradual easing of restrictions and a call for citizens to "stay alert". While some have expressed confusion over this message, for etymologists the required response is perfectly clear: we should all take to the nearest tall building, since alert is from the Italian all'erta "to the watchtower".
[theconversation.com/stay-alert-infodemic-black-death-the-fascinating-origins-of-pandemic-terms-138543]
(imagem: Shutterstock/theconversation.com)
Autoria e outros dados (tags, etc)
Sexta-feira, 17.04.20
[Uma ajuda para a compreensão de como a estratégia de TRUMP é apenas "o reflexo da estratégia dos diversos poderes instalados nos EUA" (Pentágono pelos Militares, Republicanos e Democratas pelos Civis), com os trabalhadores ─ "com direitos iguais a zero ou perto disso" ─ a imporem o regresso ao trabalho mesmo em plena Pandemia, "preferindo morrer da doença que morrer de fome".]
"Coronavirus crisis raises questions about workplace safety agency (OSHA)"
(Donovan Slack and Dennis Wagner/USA TODAY/Apr 16, 2020/usatoday.com)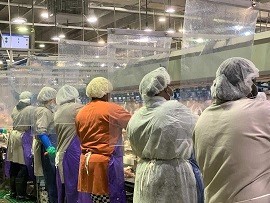 Workers are separated by sheeting
at a Tyson Foods plant in Camilla, Georgia.
In South Dakota, the virus struck hundreds of workers at a single pork processing plant. In Illinois and Michigan, a half dozen grocery workers died and others fell ill. In New York, COVID-19 has claimed the lives of dozens of transit employees. Among health care workers, at least 27 have died and 9,200 have contracted the virus.
As the country contemplates returning more employees to work and reopening the economy, the key federal agency tasked with ensuring workplace safety is drawing withering criticism from advocates who say the U.S. Occupational Safety and Health Administration is falling down on the job. (continua)
[eu.usatoday.com/story/news/nation/2020/04/16/coronavirus-osha-covid-occupational-safety-health/2986364001]
(texto/legenda/inglês: usatoday.com ─ imagem: Tyson Foods)
Autoria e outros dados (tags, etc)
Sábado, 11.04.20
"No Pants, no Problem.
But Cover Your Face."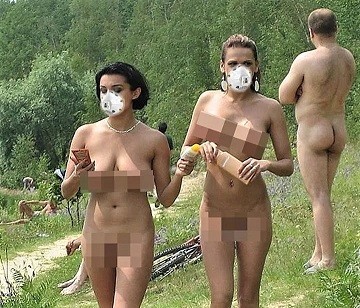 As coronavirus cases soar past 4,700 in the Czech Republic, the Eastern European nation's nude sunbathers are being targeted by authorities for neglecting to cover up their mouths.
"Citizens can be without clothes in places designated for this purpose, but they must have their mouths covered and must observe the numbers in which they can go into nature," said police spokeswoman Markéta Janovská.
| | | | | | |
| --- | --- | --- | --- | --- | --- |
| País | Infetados | Óbitos | Novos Óbitos | Grave/Crítico | Óbitos/1M |
| Rep. Checa | 5.732 | 119 | +7 | 98 | 11 |
| Portugal | 15.472 | 435 | +26 | 226 | 43 |
(11.04.2020/00:10 TMG)
[original: nypost.com/2020/04/07/nudists-warned-by-police-to-cover-up-their-mouths-for-coronavirus]
(texto/imagem e dados: boingboing.net e worldometers.info)
Autoria e outros dados (tags, etc)
Terça-feira, 25.02.20
[De artigo de Rachael Rettner (em Live Science) de 24 de fevereiro.]
It's still too soon to call coronavirus outbreak a pandemic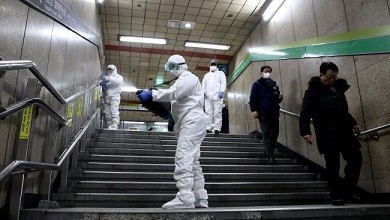 Workers wearing protective gear spray anti-septic solution at a subway station
in Seoul, South Korea, on Feb. 21, 2020,
as a measure to contain the new coronavirus.
"Does this virus have pandemic potential? Absolutely, it has.
Are we there yet? From our assessment, not yet."
(Tedros Adhanom Ghebreyesus/Diretor-Geral da OMS/Feb. 24)
As the number of coronavirus cases reported outside of mainland China continues to climb, the World Health Organization (WHO) said it's still too soon to declare the outbreak a pandemic.
…
The decision of whether to call the outbreak a pandemic is based on several factors, including "the geographical spread of the virus, the severity of disease it causes and the impact it has on the whole of society," Ghebreyesus said. Right now, "we are not witnessing the uncontained global spread of this virus, and we are not witnessing large-scale severe disease or death," he said.
…
In recent days, there has been a surge in COVID-19 cases in South Korea, Italy and Iran. Ghebreyesus called these increases "deeply concerning."
…
"This is a time for all countries, communities, families and individuals
to focus on preparing."
(Tedros Adhanom Ghebreyesus/Diretor-Geral da OMS/Feb. 24)
…
Ghebreyesus also shared new findings from WHO's team in China. The team found that the outbreak in China peaked between Jan. 23 and Feb. 2, and that it has been declining since then. Those with mild cases of COVID-19 appear to recover in about two weeks, while people with severe or critical disease recover within three to six weeks. The death rate is between 2% and 4% in Wuhan (the city where the outbreak began), and 0.7% outside of Wuhan, the team found.
…
(texto/legenda: excerto do artigo de Rachael Rettner/24.02.2020/livescience.com
– imagem: Chung Sung-Jun/Getty Images/livescience.com)
Autoria e outros dados (tags, etc)
Sexta-feira, 07.02.20
China
Doctor who sounded alarm on Wuhan virus dies of it
Li Wenliang, 34, was reprimanded by Chinese police for warning of outbreak
(Xeni Jardin/06.02.2020/boingboing.net)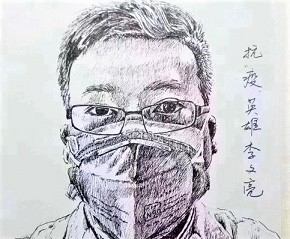 Li Wenliang was 34
When he tried to sound the alarm about the deadly Wuhan coronavirus,
now officially known as Novel coronavirus 2019-nCoV,
the police brought him in for questioning.
(Carla Sinclair)
A Chinese ophthalmologist in Wuhan who tried to warn his colleagues on December 30 about seven patients who had come down with a SARS-like virus but was censored by the Chinese government – and and then detained two days later for "rumor mongering" – has died from the disease. After being detained for two days, Li Wenliang, age 34, helped patients with the novel coronavirus who streamed into his overrun hospital, until he himself became infected with the coronavirus and was hospitalized. (Carla Sinclair/06.02.2020/boingboing.net)
(imagem: boingboing.net)
Autoria e outros dados (tags, etc)
---
---
---