Agora sem George Michael
Já que Outros ainda estão vivos lucrando com os seus zombies – nós
RIP
(Londres, 1963/2016)
Como num espaço de tempo minoritário (de muito menos do que 24 Horas) se consegue ressuscitar um morto descoberto em domínio privado, para logo de seguida e mantendo-o sempre no escuro o abater sem dó nem piedade mas agora em domínio público (no passado utilizando setas, pistolas e catanas diretamente apontados ao físico, no presente utilizando corpos devidamente certificados e tendo como seu alvo a mente). Tudo isto porque um dia e esquecendo-nos de nós, deixamos de querer evoluir apenas querendo imitar – e decidimos sem pensar nem mesmo sequer duvidar, entrarmos em múltiplas tendas e na Sociedade (do Espetáculo) participar. Oferecendo corpo e alma aos nossos verdadeiros Vampiros.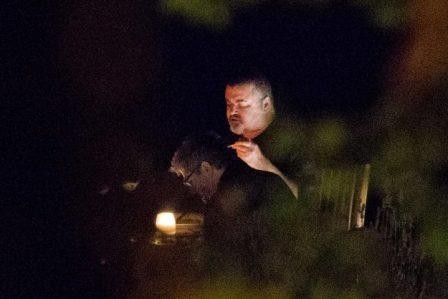 Último registo fotográfico conhecido de George Michael
(Setembro 2016 – splashnews.com)
Pop superstar dies at 53
(bbc.com – 26.12.16)
The star, who launched his career with Wham! in the 1980s and had huge success as a solo performer, "passed away peacefully" on Christmas Day in Goring, Oxfordshire, his publicist said. His manager, Michael Lippman, said he had died of heart failure.
Michael's family announced news of his death in a statement issued through the singer's publicist.
"It is with great sadness that we can confirm our beloved son, brother and friend George passed away peacefully at home over the Christmas period. The family would ask that their privacy be respected at this difficult and emotional time. There will be no further comment at this stage."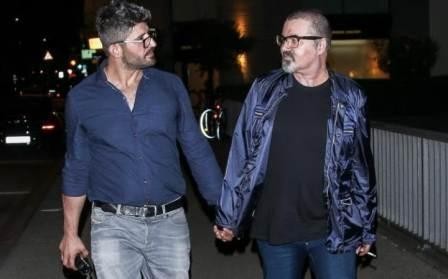 Fadi Fawaz e George Michael
(spashnews.com)
George Michael's boyfriend reveals he died alone at home
And 'battled a secret heroin addiction
(telegraph.co.uk – 27.12.2016)
"I went round there to wake him up and he was just gone, lying peacefully in bed. We don't know what happened yet. Everything had been very complicated recently, but George was looking forward to Christmas, and so was I. Now everything is ruined." (Fadi Fawaz)
During the past year he is thought to have been battling a spiralling heroin addiction. Michael had been treated in hospital for an overdose. "He's been rushed to A&E on several occasions. He used heroin. I think it's amazing he's lasted as long as he has."
Cardiac arrest - the cause of death according to Michael's manager, Michael Lipman - is common among heroin users.
Ainda-por-cima passando-se tudo isto num mundo pejado de hipócritas bem pagos, nunca presentes, mas sempre bem preparados (com certificação e autorização de porte não de uma arma tradicional mas de uma arma mental) e sabendo todos nós muito bem o que tal palavra significa (sendo tão praticada nos média): "O hipócrita é alguém que oculta a realidade através de uma máscara de aparência." (significados.com.br)
E como se o problema fosse da droga!
(imagens: ok.co.uk e telegraph.co.uk)