Um espelho que reflecte a vida, que passa por nós num segundo (espelho)
---
Sexta-feira, 14.03.14
"
A potent threat of major earthquake off California's northern coast
"
(Los Angeles Times)
Risk of a monster quake and tsunami
off California's North Coast is greater than researchers once thought.
If a 9.0 earthquake were to strike along California's sparsely populated North Coast, it would have a catastrophic ripple effect.
A giant tsunami created by the quake would wash away coastal towns, destroy U.S. 101 and cause $70 billion in damage over a large swath of the Pacific coast. More than 100 bridges would be lost, power lines toppled and coastal towns isolated. Residents would have as few as 15 minutes notice to flee to higher ground, and as many as 10,000 would perish.
Scientists last year published this grim scenario for a massive rupture along the Cascadia fault system, which runs 700 miles off shore from Northern California to Vancouver Island.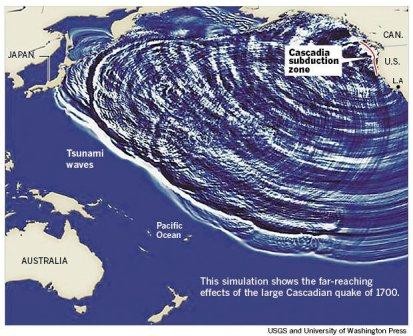 Cascadian quake of 1700 – computer simulation
The Cascadia subduction zone is less known than the San Andreas fault, which scientists have long predicted will produce The Big One. But in recent years, scientists have come to believe that the Cascadia is far more dangerous than originally believed and have been giving the system more attention.
The Cascadia begins at a geologically treacherous area where three tectonic plates are pushing against each other. The intersection has produced the two largest earthquakes in California in the last decade — Sunday's 6.8 temblor off Eureka and a 7.2 quake off Crescent City in 2005. The area has produced six quakes of magnitude 7.0 or greater in the last 100 years, the California Geological Survey said.
Officials in Northern California as well as Oregon and Washington are beginning to address the dangers.
...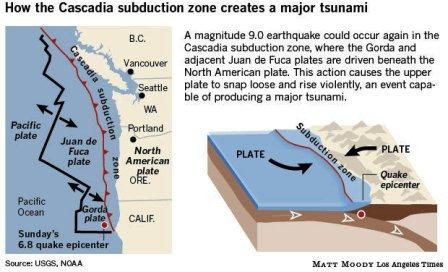 Cascadian subduction zone – creation of a tsunami
The Cascadia fault is powerful for two reasons: It is both extremely long and it is a "megathrust" fault, in which two tectonic plates — slabs of rock roughly the size of New Mexico floating atop the Earth's molten core — are being forced underneath the gigantic North American plate.
As the smaller plates — the Juan de Fuca and Gorda plates — jam underneath the North American plate, friction builds, and the edge of the North American plate is temporarily dragged down as well.
But the North American plate is old and strong, and won't be pulled down forever.
Every several hundred years or so, the North American plate violently snaps back like a rubber band — thrusting upward with horrific power.
Sunday's quake, which erupted 50 miles off the coast, caused light to moderate shaking. No injuries or damage was reported.
But the North Coast has not always been so lucky.
On April 25, 1992, a magnitude-7.2 earthquake hit on shore near the village of Petrolia — about 30 miles southwest of Eureka — injuring 95 people, and triggering landslides and rockfalls, according to the U.S. Geological Survey.
That quake was so powerful that a 15-mile stretch of beach was pushed up as much as 4 feet — leaving behind rows of dead sea urchins, mussels and sea snails.
The 1992 earthquake pushed Victorian-era homes from foundations and took down chimneys.
An aftershock sparked an electrical fire that engulfed the lone shopping center in the town of Scotia. Firefighters stood by helplessly as a ruptured water main cut off water to the hydrants.
Fires also destroyed the only general store and post office in Petrolia.
As for the next 9.0 quake, U.S. Geological Survey seismologist David Oppenheimer said: "It could be today. It could be 100 years from now."
(Excerto de artigo: Rong-Gong Lin II and Rosana Xia – Los Angeles Times – 12.03.2014)
Autoria e outros dados (tags, etc)
---
---
---