"Depois de destruirmos a TERRA, que tal darmos cabo do CÉU
e transformarmos isto tudo num INFERNO?"
(uma frase do profeta Elon Musk?)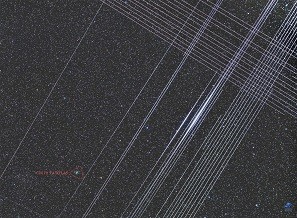 Tal como na Terra, com o Céu a ser vítima de contaminação
(hoje como amanhã)
Pelos vistos o desejo de um multimilionário de base norte-americana, utilizando a sua empresa aeroespacial SPACE X para colocar em órbita (do nosso planeta) uma plataforma de SATÉLITES, de modo a instalar um novo sistema de comunicações e assim revolucionar a INTERNET.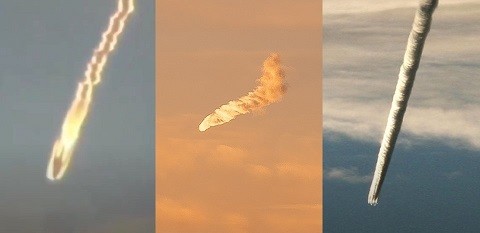 Objeto desconhecido e em chamas, caindo do Céu
(amanhã como hoje)
Aos 48 anos de idade já tendo o seu 1º esquadrão de 360 STARLINK (novinhos em folha, mas já com mais de 200Kg cada), mais tarde indo-os reforçar progressiva e fortemente e tendo como objetivo a curto-prazo, lançar a sua Cavalaria de 12.000 STARLINK e assim derrotar a tecnologia rival (dos EUA) a INTERNET CHINESA (G5). E sendo bem financiado por isso (que o diga a NASA).
"In June 2019, the International Astronomical Union expressed concern about the negative impact that the planned mega-constellations of communication satellites may have on astronomical observations and on the pristine appearance of the night sky when observed from a dark region." (iau.org)
No passado dia 19 de abril deste ano com um cidadão anónimo apesar de ter nome, a ser surpreendido ao observar o céu noturno justamente colocado entre si e o ESPAÇO, não por um COMBOIO de SATÉLITES STARLINK, mas por dois cruzando-se quase que perpendicularmente. Dando-lhe cabo da cabeça assim como das imagens: quando apenas queria ver o cometa ATLAS (1ª imagem/canto inferior esquerdo).

(imagens: Zdenek Bardon/spaceweather.com ─ ufosightingshotspot.blogspot.com)