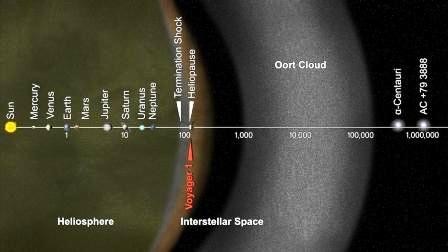 Voyager 1: out of the Solar System
Researchers have long waited for one of the Voyager probes to leave the solar system. In a surprising turn of events, NASA announced today that Voyager 1 entered interstellar space a whole year ago! This event sets in motion a new era of exploration of the realm between the stars.
In February 2013, the National Radio Astronomy Observatory's 5,000-mile-wide Very Long Baseline Array (VLBA) made a radio image of Voyager 1's signal. Little did they know, Voyager 1 was already in interstellar space: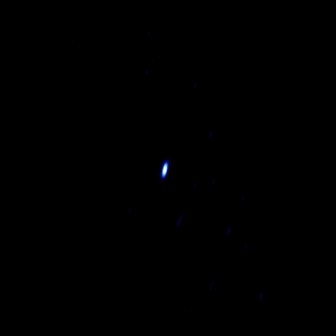 Voyager signal spotted by Earth radio telescopes
Voyager 1's main transmitter radiates around 22 watts, which is comparable to a typical ham radio or a refrigerator light bulb. Though incredibly weak by the standards of modern wireless communications, Voyager 1's signal is bright when compared to most natural objects studied by radio telescopes.
The image is about 0.5 arcseconds on a side. An arcsecond is the apparent size of a penny as seen from 2.5 miles (4 kilometers) away. The slightly oblong shape of the image is a result of the array's configuration.
The VLBA made this image of Voyager 1's signal on Feb. 21, 2013. At the time, Voyager 1 was 11.5 billion miles (18.5 billion kilometers) away.
(texto e imagens: spaceweather.com e nasa.gov)