A Equivalência da Massa e da Energia
Sessão Pública – USA – Pittsburgh – 1934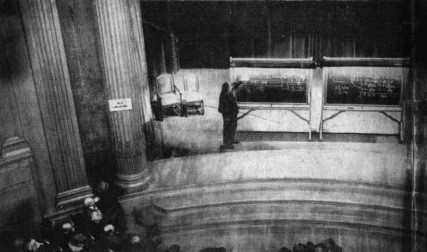 E = MC²
Einstein correctly described the equivalence of mass and energy as "the most important upshot of the special theory of relativity" (Einstein, 1919), for this result lies at the core of modern physics.
According to Einstein's famous equation E = mc2, the energy E of a physical system is numerically equal to the product of its mass m and the speed of light c squared.
It is customary to refer to this result as "the equivalence of mass and energy," or simply "mass-energy equivalence," because one can choose units in which c = 1, and hence E = m.
(imagem: io9.com – texto: SEP)