Um espelho que reflecte a vida, que passa por nós num segundo (espelho)
---
Quarta-feira, 30.05.18
SRI International Selected by DARPA To Develop Artificial Intelligence System that Continually Learns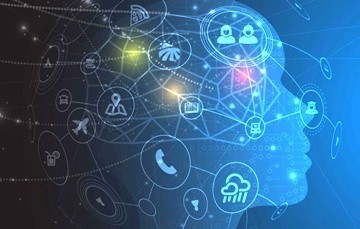 MENLO PARK, Calif. – May 16, 2018
SRI International has been selected by the Defense Advanced Research Projects Agency (DARPA) to develop a next-generation artificial intelligence (AI) system able to learn continuously and apply that learning to become better and more reliable at performing new tasks. The contract will be supported under DARPA's Lifelong Learning Machines (L2M) Program.
While AI systems have become core to many commercial and government applications, they are not able to handle new scenarios that they are not trained on. AI systems today can repeatedly make the same mistakes. Even with retraining, today's systems are prone to "catastrophic forgetting" when a new item disrupts previously learned knowledg
"Our goal is to address these limitations by enabling AI systems to know what to learn and when," explained Sek Chai, Ph.D., technical director in the Center for Vision Technologies, SRI International.  "Since memory is a key element of cognitive function, our research is focused on understanding and applying biological memory transfers to new AI algorithms that can fundamentally improve their performance throughout their fielded lifetime experience."
Biological memory transfer is a complex sequence of dynamic processes, with local and global synchronization patterns. These processes support memories with flexibility in expression for future thinking, foresight, planning, and creativity.  As part of the L2M program, SRI researchers will develop AI algorithms based on biological mechanisms in memory consolidation and replay.  With this AI technology, future cognitive systems such as autonomous robots may be able to continually learn after initial deployment, improving execution performance and overall safety.
(texto e imagem: sri.com)
Autoria e outros dados (tags, etc)
Sábado, 13.05.17
Researchers at the University of Bonn restore the memory performance of Methuselah mice to a juvenile stage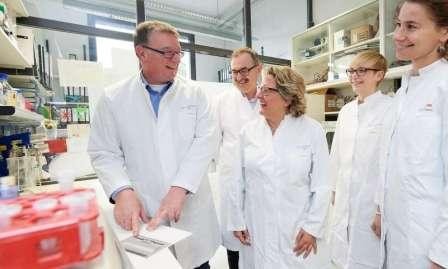 Prof. Dr. Andreas Zimmer (left) and the North Rhine-Westphalia science minister Svenja Schulze (center) are in the lab of the Institute of Molecular Psychiatry at University of Bonn (Volker Lannert/Uni Bonn ‒ medicalxpress.com)
Memory performance decreases with increasing age. Cannabis can reverse these ageing processes in the brain. This was shown in mice by scientists at the University of Bonn with their colleagues at The Hebrew University of Jerusalem (Israel). Old animals were able to regress to the state of two-month-old mice with a prolonged low-dose treatment with a cannabis active ingredient. This opens up new options, for instance, when it comes to treating dementia. The results are now presented in the journal Nature Medicine.
Like any other organ, our brain ages. As a result, cognitive ability also decreases with increasing age. This can be noticed, for instance, in that it becomes more difficult to learn new things or devote attention to several things at the same time. This process is normal, but can also promote dementia. Researchers have long been looking for ways to slow down or even reverse this process.
Scientists at the University of Bonn and The Hebrew University of Jerusalem (Israel) have now achieved this in mice. These animals have a relatively short life expectancy in nature and display pronounced cognitive deficits even at twelve months of age. The researchers administered a small quantity of THC, the active ingredient in the hemp plant (cannabis), to mice aged two, twelve and 18 months over a period of four weeks.
Afterwards, they tested learning capacity and memory performance in the animals – including, for instance, orientation skills and the recognition of other mice. Mice who were only given a placebo displayed natural age-dependent learning and memory losses. In contrast, the cognitive functions of the animals treated with cannabis were just as good as the two-month-old control animals. "The treatment completely reversed the loss of performance in the old animals," reported Prof. Andreas Zimmer from the Institute of Molecular Psychiatry at the University of Bonn and member of the Cluster of Excellence ImmunoSensation.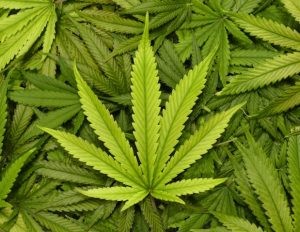 As if marijuana users needed another reason to smoke a joint, a new study reveals that cannabis may actually reverse the aging process in the human brain
(Selena Hill/blackenterprise.com)
Years of meticulous research
This treatment success is the result of years of meticulous research. First of all, the scientists discovered that the brain ages much faster when mice do not possess any functional receptors for THC. These cannabinoid 1 (CB1) receptors are proteins to which the substances dock and thus trigger a signal chain. CB1 is also the reason for the intoxicating effect of THC in cannabis products, such as hashish or marihuana, which accumulate at the receptor. THC imitates the effect of cannabinoids produced naturally in the body, which fulfil important functions in the brain. "With increasing age, the quantity of the cannabinoids naturally formed in the brain reduces," says Prof. Zimmer. "When the activity of the cannabinoid system declines, we find rapid ageing in the brain."
To discover precisely what effect the THC treatment has in old mice, the researchers examined the brain tissue and gene activity of the treated mice. The findings were surprising: the molecular signature no longer corresponded to that of old animals, but was instead very similar to that of young animals. The number of links between the nerve cells in the brain also increased again, which is an important prerequisite for learning ability. "It looked as though the THC treatment turned back the molecular clock," says Zimmer.
Next step: clinical trial on humans
A low dose of the administered THC was chosen so that there was no intoxicating effect in the mice. Cannabis products are already permitted as medications, for instance as pain relief. As a next step, the researchers want to conduct a clinical trial to investigate whether THC also reverses ageing processes in the brain in humans and can increase cognitive ability.
The North Rhine-Westphalia science minister Svenja Schulze appeared thrilled by the study: "The promotion of knowledge-led research is indispensable, as it is the breeding ground for all matters relating to application. Although there is a long path from mice to humans, I feel extremely positive about the prospect that THC could be used to treat dementia, for instance."
(uni-bonn.de)
[Publication: A chronic low dose of delta9-tetrahydrocannabinol (THC) restores cognitive function in old mice, Nature Medicine, DOI: 10.1038/nm.4311/Prof. Andreas Zimmer Institute of Molecular Psychiatry University of Bonn]
Autoria e outros dados (tags, etc)
---
---
---