Continuando na sua aproximação ao planeta anão PLUTÃO a sonda NEW HORIZONS encontra-se agora a mais de 100 milhões de quilómetros do planeta e a cerca de três meses da sua data de chegada. Viaja neste momento com uma velocidade próxima dos 14km/s.
NASA's New Horizons detects surface features, possible polar cap on Pluto
(Science Daily)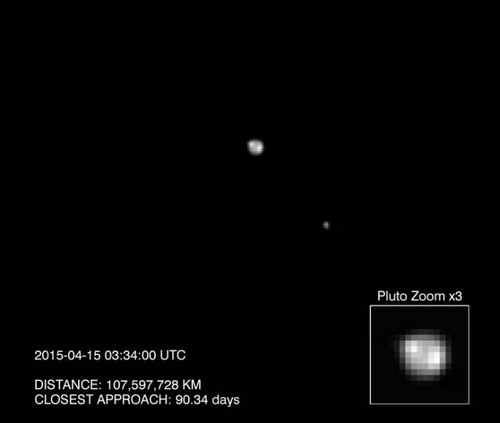 Plutão e uma das suas luas Charon
For the first time, images from NASA's New Horizons spacecraft are revealing bright and dark regions on the surface of faraway Pluto – the primary target of the New Horizons close flyby in mid-July.
As we approach the Pluto system we are starting to see intriguing features such as a bright region near Pluto's visible pole, starting the great scientific adventure to understand this enigmatic celestial object.
Also captured in the images is Pluto's largest moon, Charon, rotating in its 6.4-day long orbit.
It orbits our sun more than 5 billion kilometers from Earth.
These incredible images are the first in which we can begin to see detail on Pluto, and they are already showing us that Pluto has a complex surface.
(tirado de artigo: sciencedaily.com – imagem: NASA)