Um espelho que reflecte a vida, que passa por nós num segundo (espelho)
---
Segunda-feira, 09.07.12
Queen Rat: Victorian London's Sewer Succubus
This was a supernatural creature whose true appearance was that of a rat; she would follow the toshers about, invisibly, as they worked, and when she saw one that she fancied she would turn into a sexy-looking woman and accost him. If he gave her a night to remember, she would give him luck in his work; he would be sure to find plenty of money and valuables. He would not necessarily guess who she was, for though the Queen Rat did have certain peculiarities in her human form (her eyes reflected light like an animal's, and she had claws on her toes), he probably would not notice them while making love in some dark corner. But if he did suspect, and talked about her, his luck would change at once; he might well drown, or meet with some horrible accident.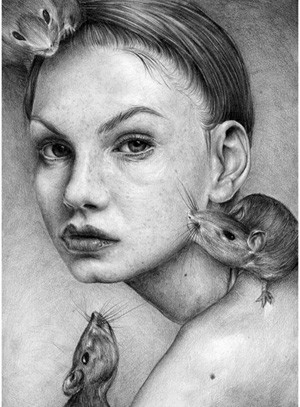 Queen-Rat
One such tradition was handed down in the family of a tosher named Jerry Sweetly, who died in 1890, and finally published more than a century later. According to this family legend, Sweetly had encountered the Queen Rat in a pub. They drank until midnight, went to a dance, "and then the girl led him to a rag warehouse to make love." Bitten deeply on the neck (the Queen Rat often did this to her lovers, marking them so no other rat would harm them), Sweetly lashed out, causing the girl to vanish and reappear as a gigantic rat up in the rafters. From this vantage point, she told the boy: "You'll get your luck, tosher, but you haven't done paying me for it yet!"
Offending the Queen Rat had serious consequences for Sweetly, the same tradition ran. His first wife died in childbirth, his second on the river, crushed between a barge and the wharf. But, as promised by legend, the tosher's children were all lucky, and once in every generation in the Sweetly family a female child was born with mismatched eyes–one blue, the other grey, the color of the river.
(disinfo.com)
Autoria e outros dados (tags, etc)
---
---
---