"Russia Is About to Send a Humanoid AI Robot
to the International Space Station"
(newsweek.com)
A dias do lançamento HISTÓRICO do primeiro HUMANOIDE – o SKYBOT F-850 mais conhecido por FEDOR − para o Espaço (enviado pela Agência Espacial Russa ROSCOSMOS), dirigindo-se para a ISS e aí devendo passar uma dezena de dias − antes de regressar de novo à Terra. A bordo da nova nave SOYUZ-MS e transportado pelo também novo foguetão SOYUZ-2.
FEDOR
1º Humanoide no Espaço
No próximo dia 22 de agosto de 2019 (quinta-feira) dando-se um novo e decisivo passo na Exploração Espacial (e indo mais além na Descoberta do Universo), depois do primeiro ser vivo a ser colocado em órbita da Terra – a cadela LAIKA em 3 de Novembro de 1957 – e do primeiro Homem a repetir a proeza – IURI GAGARIN em 12 de Abril de 1961 – seguindo-se agora a vez do primeiro Humanoide o fazer – um ROBOT com cabeça, tronco e membros, dotado de inteligência (artificial) e fazendo mesmo lembrar um Humano (fixem para a História a 22). Para os outros (e suas proezas) − e como se vê − ficando a LUA (abandonada há 50 anos).
"This [launch] will be the first stage of work with anthropomorphic systems, enabling us to proceed further into the far space," Rogozin said about the mission to the ISS.
[Fedor will be] very important for operations aimed at replacing humans in performing the riskiest tasks, including future manipulations outside space stations."
(Dmitry Rogozin/Director general of Roscosmos/newsweek.com)
Curiosamente, mas certamente que não por acaso ou por coincidência (ou não integrássemos um mesmo Holograma), com todos estes intervenientes a terem o mesmo remetente e destinatário (comum a todos eles), sendo o mesmo designado como URSS (sob a liderança de Nikita Khrushchev) ou Confederação Russa (sob a liderança de Vladimir Putin): podendo-se assim assumir (faltando a confirmação) que o primeiro ser biológico ou mecânico a sair da TERRA e a lançar-se no ESPAÇO, não era (em princípio, pois nunca se sabe) Norte-Americano, mas sendo-o (pelo feito) excecional. Com os olhos (para uma missão a curto-prazo) já na Lua.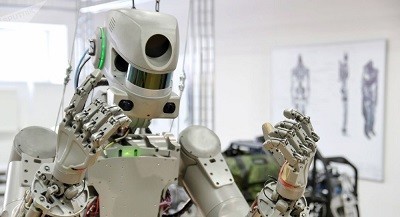 A 1º vez que um Robot
Se sentará na cadeira de um comandante
E tendo-se iniciado com o nome de AVATAR − em missões de recuperação e de salvamento (civis como militares) em terra (na TERRA) − sendo posteriormente reconvertido e passado a FEDOR − agora destinado para o exercício de funções no ESPAÇO – antes de retornar (a casa) preparando-se para a sua Grande Viagem: natural ou artificial (a dita inteligência) depois do Homem (o Rival-Inteligente Norte-Americano) tornando-se o 1º Humanoide (Robot-Inteligente Russo) a pisar a superfície da Lua.
(imagens: room.eu.com/Donat Sorokin/TASS − sputniknews.com/Alexandre Ovcharov/Sputnik)