Matchmaking by Smell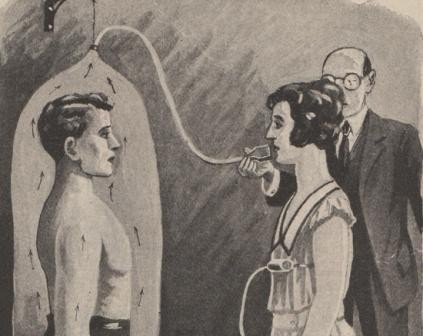 Dating sites claim they can find you the perfect match by using algorithms. This idea–wanting to make the frustrating world of romantic love into something quantifiable–is nothing new. The April 1924 issue of Science and Invention magazine ran an article by Hugo Gernsback, the magazine's publisher, which examined the "scientific" ways to determine if a marriage will succeed or fail.
Gernsback claims that more marriages are probably wrecked by body odors than any other cause. During the body odor test, the couple is made to smell each other ("not a pleasant experience," Gernsback opines) by one person being placed inside a large capsule with a hose coming out the top. The hose is led to the nose of the other person and if the smells aren't found too objectionable (again, measured by devices strapped to the chest and wrist) then the romantic pairing is deemed safe.
(disinfo.com)