Quando olhei pela primeira vez para a imagem (abaixo) pensei que se poderia referir a um cérebro humano. Mas não: era um modelo computadorizado da explosão de uma estrela super-maciça.
Não deixei no entanto de pensar se não haveria uma correlação entre estes dois artefactos presentes no nosso Universo e se ambos não seriam réplicas (adaptadas às circunstâncias) do mesmo modelo original: é que no fundo o nosso Universo poderá ser apenas mais um entre uma infinidade de outros Universos, replicando-se desde o infinitamente pequeno até ao infinitamente grande (seja lá o que isso for, num Universo Infinito) entre reuniões e intersecções de mundos concorrenciais e/ou paralelos.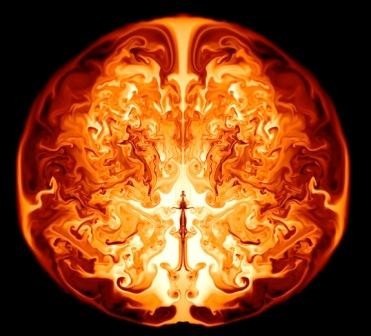 Psychadelic Star
(Ke-Jung Chen/Minnesota Institute for Astrophysics/University of Minnesota/Twin Cities)
This mesmerizing image is actually a visualization of the guts of an exploding supermassive star. The computer model represents a slice through the interior of a star that is 55,500 times as massive as the sun.
Some astrophysicists have suggested that supermassive black holes form when hefty stars — those that are more than 10,000 times as massive as the sun — collapse into black holes. Understanding this process could help scientists determine how structures, such as supermassive black holes, formed in the early universe.
(texto/inglês e imagem – livescience.com)