Um espelho que reflecte a vida, que passa por nós num segundo (espelho)
---
Sábado, 01.03.14
China train station attack: 28 killed in mass stabbing in Yunnan province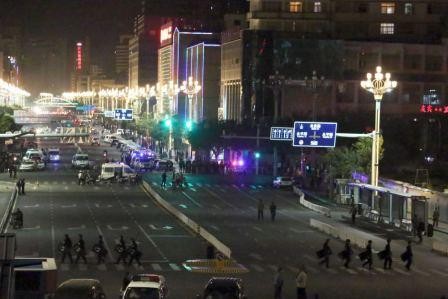 Chinese police cordon off the area outside the railway station in Kunming
The incident "was an organised, premeditated violent terrorist attack" carried out by "unidentified knife-wielding people", Xinhua said, citing authorities.
State broadcaster CCTV also called the incident a "terrorist attack" on its Weibo account.
The attackers were dressed in similar black clothing, the official China News Service said, citing eyewitnesses.
"A group of men carrying weapons burst into the train station plaza and the ticket hall, stabbing whoever they saw," it said.
Photos posted on Sina Weibo show blood spattered across the station floor and medical staff crouching over bodies lying on the ground, although the authenticity of the images could not be verified.
Yunnan has no history of violent attacks, and the motive for the stabbings was not immediately clear, nor the identity or ethnicity of the perpetrators.
Knife and bomb attacks against local officials occur sporadically in China's far-western region of Xinjiang, where the mainly Muslim Uighur ethnic minority complain of cultural repression and tight security, while Beijing says it is facing a violent separatist movement.
Incidents involving Uighurs are often labelled "terrorist attacks" while others carried out by Chinese seen as having grievances against society or the authorities are not.
The attack comes just days before China's annual main session of parliament, the National People's Congress.
Throughout the country security has been stepped up in the run-up to the meeting.
(ABC/AFP/Reuters)
Autoria e outros dados (tags, etc)
---
---
---